Returning
Returning is a "special edition" mini album, consisting of 4 songs by Anders Holte. It was released for the Crimson Circle's Midsummer Conference 2009, their "Farewell to Tobias" event. (Read below what Geoffrey Hoppe and other people say about this album)
(More about the "Farewell to Tobias" event here)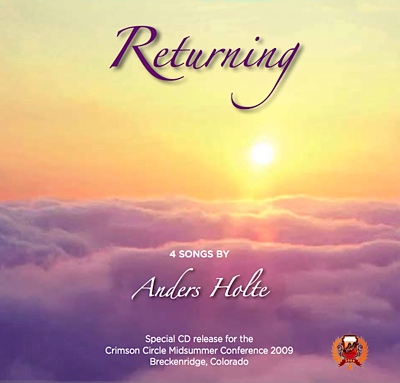 Buy the download album
Pay with credit card or via bank transfer. 
No Paypal account required. 
-∞-  Check out my other albums  -∞-
What people say about "Returning" ...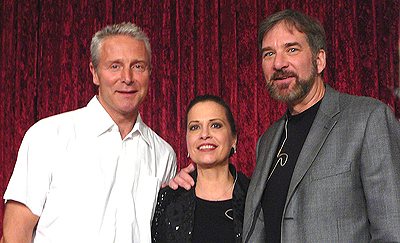 Geoffrey Hoppe about this album
"Anders Holte came into the Shaumbra spotlight in early 2009 when he submitted a song for the Tobias' "Returning Song Contest".
It became an immediate hit with Shaumbra all over the world and Anders went on to win the song contest with his hit, "I Am Returning."

At Tobias' personal request Anders then sang "I Am Returning" immediately before Tobias final channel in Breckenridge, Colorado on July 19, 2009. 
1. I Am Returning

Describes the longing for Home since eons of time, and an emerging feeling that Home is slowly beginning to enter this lifetime as the veil is lifting. And in this change, even people around us seem to change. Winner of Tobias' Returning Song Contest.
2. Ordinary Saint
"The Adamus Song" is indeed inspired by the "taxi story" from Paris where Saint-Germain appeared out of nowhere as the cab driver for Geoff and Linda making sure everything went well. Anders loved that story, and the song came swiftly.
3. You Take My Breath Away
A love story across ages and lifetimes, and is inspired by the relationship with Anders' partner Cacina, the love of his life in this lifetime and many others. 
4. Together
About awakening to the experience that we're all coming from the same 'Home', and that what we perceive as family changes when we accept this potential. We are indeed so much more than just biology, but rather souls on a journey together."
Geoffrey Hoppe, Crimson Circle/USA
---
-∞-
"Thank you from the bottom of my heart for your wonderful music. Especially, the song "You take my breath away" touches me everytime so deep that tears of gratitude for several persons in my life are flowing. You are one of these persons. May you always be blessed, beautiful soul."
Jens G., Germany
"I have just heard your song "You Take My Breath Away" and it resonated something very true in my heart. I am in the process of returning to a relationship I have had in another lifetime over and over and this record I must have."
Neil H., United Kingdom
"Breathing with your "Returning" album has been magnificently beneficial for me, and I thank you from the depths of my heart."
Nan S., United States
"I'm listinening so much to the song an "Ordinary Saint". It makes me have tears of joy, and the other CDs.. Lemurian etc, I love them so much. Keep in touch!"
Ilaria G., Italy
"We really like the songs you made for "Returning". My 2 years old daughter likes it very much also, and it makes her dance often. When we don't succed in connecting ourselves for the day, these songs really help. We would really really like you to go on in writing songs and let us know as soon as they are available. Thanks soo much!"
Anne G., Chile
"I sent the song 'You take my breath away' to Marie last night, new years day. It literally took her breath away. It is the beginning or returning of something very special for us both. Happy New Year!"
Nick H., United States
"You made the Midsummer Light Conference very magical with your voice, vocals, and sound. The magic of your voice is still with me."
Deborah C., United States 
"My husband Michel and I were so impressed by hearing your returning song for the first time. Since that time I have the strong feeling to contact you. Only to share what a great, loving and extraordinary Song it is. Thanks again for coming into our lives."
Silvia T., Netherlands
"I heard your singing for the first time on Tobias' farewell video. It was so very beautiful. It touched me very much."
Tanya L., United States
"Thank you so much for being present in Breckenridge! I so much appreciated you being there. I have listened to your music everyday since returning home from the conference and feel so comforted by it. I also purchased the Home Coming CD. I just wanted to say thank you and bless you and your family."
Paula  B., United States
---