Atlantis Remembers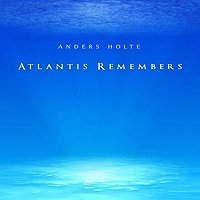 Download album




CD album



Please note ! Due to the current global situation it has recently become mandatory for us to ship our CDs as registered mail. This means that unfortunately we have had to raise our shipping prices in order to cover the extra shipping expenses. Therefore at the moment we only offer CD shipping for purchases a minimum of

4 CD albums

It doesn't have to be 4 CDs of the same album. You choose. Just have it in mind when you want to order CD albums.
Pay with credit card or via bank transfer. 
No Paypal account required. 
-∞-
Anders Holte about "Atlantis Remembers"
The story of Atlantis is ancient, its days are long gone. And yet some of us feel it as if it were yesterday. Memories ... gentle as a whisper in the wind ... call our consciousness to awaken after eons of sleep. And as we awaken we remember our covenant with the future.
It is time .. Standing on the shore calling upon the waters, hearing the roar of the waves tumbling onto the coast as the ocean responds... Still remembering who we really are we opened our hearts to the sea of our beloved Atlantis.. entrusting it all that is sacred and dear to us.
Listening to the echo of a time we knew was yet to come, we made a covenant with the Earth to safely hold our love, our knowledge, our dreams and visions of a new world until they were ready to resurface again.

Until we were ready.. again. What seemed as the end was to become the womb for new futures and new worlds that otherwise would have never been.
Today we are beginning to listen again, we hear the call.. the echo from an ancient stellar lullaby as we are about to awaken to the dawn of a new day. And so, through us Atlantis remembers ... the heart.
-∞-  Check out my other albums  -∞-
What people say about "Atlantis Remembers"..
"Wow! You have a voice of an angel! Your "Call of Atlantis" called me!!
Colleen L., USA"
"I am totally in love with this music. Listen during the day, go to bed with it and listen in an endless loop. Especially the "Stellar Lullaby" ..... adore it."
Yasmin S., Germany
"Dear Anders,
Your music is highly appreciated. When I listen to Atlantis Remembers
it is as if I remember or re-live a certain state of sensitivity. Often I am then floating around the planet, discovering the energies of the earth from a spirit experience. I feel then curious. It is also adventures but not dangerous. It is a thin veil between where I am in and the earth sphere or those energies that I am discovering. It has nothing to do with any physical incarnated memories. It has no relation to that.
I see landscapes, endless landscapes .. I am sensing all kind of different energies from different landscapes as well. It is wonderful, beautiful.
It is limitless but somehow still to be expanded. It is both pure and innocent.
This music, as the other cd's, have opened another connection with my soul. As if I could say: "wow, this is me also".
To me it was a totally new way of listening to music.… Putting on this music in a moment when I need silence for myself, will bring it down to the essence in a very short time.
I am amazed how you invented this unique sound and dimension. There is nothing like it.
For me you deserve a Grammy Awards! Because it is innovative, explorative and true soul connection music.
All your music has been a sound track for at least 2 very transformational years and I am very glad to have had this with me. You are truly an alchemist of sound.
With kind regards and blessings"
Mary, United Kingdom
---