Dream Of The Blue Whale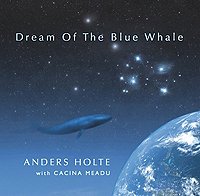 Pay with credit card or via bank transfer. 
No Paypal account required. 
Please note ! Due to the current global situation it has recently become mandatory for us to ship our CDs as registered mail when we ship CDs outside the EU. This means that unfortunately we have had to raise our shipping prices in order to cover the extra shipping expenses. Please note that the mandatory registered mail shipping price for 1 CD and up to 15 CDs, is the same (Typically around 20 USD). Therefore at the moment we only offer CD shipping outside the EU for purchases of 4 CD albums or more.

-∞-
Testimonials
Anders Holte about "Dream Of The Blue Whale"
I have always felt a strong connection to the blue whales and often wondered what these gentle giants dream about as they move gracefully in the depths of their ocean world. To me, they are our kindred spirits of stellar origin who were always holding our dreams for us. They were keeping their timeless secrets of wisdom and love until we too are ready to dream again. And I believe that time has come.
The title 'Dream Of The Blue Whale' came to me several years ago. My partner Cacina and I both loved it right away. Short before a journey to Hawaii we decided to go in the recording studio, having the title 'Dream Of The Blue Whale' as our only guidance. We consciously didn't make any musical agreements. Instead we allowed the music to emerge literally 'out of the blue' – Cacina playing, me singing. 

Creating this album has reminded me that my dreaming happens as the music flows through me.

'Dream Of The Blue Whale' features nearly an hour of deep and transformational music. What you hear on this album is the music recorded the way it came through us in the moment. Both pieces are uninterrupted "one-take" recordings with very little editing. The only additional recordings I made are the deep 'Lemurian bass tones' which we both feel belong in this music.
-∞-  Check out my other albums  -∞-
What people say about "Dream Of The Blue Whale" ...
"Over a year ago I heard one of your interdimensional songs at a meditation workshop and it was so remarkable and peaceful and took me so far away. I searched for over one year to find the music. Recently I was in a workshop by the same person and as soon as he played your song, I ran to him and asked for the name. … Dream of the Blue Whale is absolutely remarkable, I don't even have words to describe the feeling and each time I hear it brings me tears.  I loved reading about how this music was guided to be released. Much appreciation, love to you and Cacina."
Maida H. 
"A few days ago I received your "Dream of the Blue Whale". It is amazing music/sound. I love it. The most odd thing was that on the day the CD arrived, a whale was dying on our coast. So I dedicated this music to him and made the connection with this beautiful animal. Just to help him die. It was sad and beautiful at the same time. Thanks so much for your beautiful music."
Elisabeth H., Netherlands
"The very first touch with your song was "Dream of the blue whale". I was truly touched by the aura and power of the voice and the call of the blue whale in the song transferred by your voice. So I do believe there is a resonant frequency of love, I mean ,the big love, from universe, beyond space. Then I tried to search your other songs. I've also recommended your music to my friends, and we all admit it benefits our meditation, cultivation of heart and healing of body and mind.
It is so encouraging that you have plans to come visit China, maybe offer courses? Hope we can keep in touch. Sincerely,"
Tangie, China
"All records I've bought from you so far are good, but for me the most special is "Pleiadian Prayer". I still remember very well the first time I heard it. The feelings were and still are sensational."
Jose S., Spain
"I listened to "Dream Of The Blue Whale" last night and how beautiful it was - I was transported to another world - so peaceful, relaxing and truly as if I had joined the whales in the ocean and was with them.  The second CD I had ordered is for my friend Carol who attended the Kryon conference with me in Uluru, Australia.  Peggy Phoenix Dubro played your CD to us and my friend Carol burst into tears and was unable to stop crying.  Your music truly touched her soul and I bought a CD for each of us. Your music is amazing - you have a gift - and we are all so truly grateful you are sharing your gift with the world and touching souls such as ours. Love, Light and Blessings to you and your partner."
Donna H., Australia
"Loving the Dream Of The Blue Whale! I have Reiki with a guy who always plays it when he treats me who discovered you through Kryon. I'm finding it great for meditating and look forward to downloading more of your music."
Marc, United Kingdom
"I have bought the dream of the blue whale album. I am very happy with it and very grateful for your work."
Elie N., France
"Dream of the blue whale…..listening now.....I needed easy right about now.....so many other pieces of my life take so many steps to complete......thank you Anders for caring......Tulsa, Oklahoma so needs a vibrational lift.......please come to visit and sing and play your music for us......Anytime you are welcome, I will find you lodging and a venue to play.......keep in touch and let me know if you ever feel the impulse for this land.......it's going to take a lot of us to gather, chant, sing, praise, meditate, and intend for peace, it will happen, just need the encouragement when I am feeling tapped out at this moment. Peace, Love, Joy my friend!"
Suzanne K., United States
---